Maad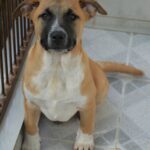 No podemos creer que Maad este todavia aqui en el refugio. Ya tiene 5 meses y se está convirtiendo en un chico guapo. Es un mestizo mediano y esperamos que esperamos que encuentre pronto su hogar definitivo. Este guapo tiene todas las vacunas con pasaporte, lleva microchip y recibe tratamiento para pulgas y garrapatas, desparasitada y prevención del gusano del corazón.
Para más información o para una cita (solo citas previas) comuníquese directamente con el refugio.
——————
We cannot believe Maad is still here at the kennels. He is already 5 months and becoming such a handsome boy. He is a medium crossbreed and we really hope he finds his forever home soon.
This gorgeous boy is fully vaccinated with a passport and microchip, treated for fleas and ticks, dewormed and on heartworm prevention.
For more information or for an appointment (appointments only) contact the kennels directly.
🐾Adopciones/Adoptions. 966710047 (deje un mensaje/leave a message) info@satanimalrescue.com o WhatsApp al 688792515. (solo citas previas/appointments only).
🐾 www.satanimalrescue.com
🐾Donaciones/ Donations https://www.satanimalrescue.com/donate
ES33-0049-4556-1527-1002-2253 BSCHESMM
🐾 ¡Hágase un amigo de SAT! / Become a SAT friend http://bit.ly/3GmnP0l
🐾Teaming por tan sólo 1€ al mes/ Teaming for on 1euro a month. www.teaming.net/sat