Rosy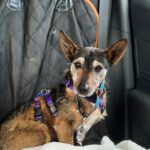 Little Rosy was spotted wondering the fields near a motorway, all alone, hungry and cold… We think she must have been recently abandoned there, because Rosy is so gentle and delicate, that we cannot imagine her having survived there for long. It took many people, days and patience to catch the small field mouse and bring her to safety – many dogs get run over by cars like this!
Rosy is about 8 years old, only 8 kilos and 30cm in height, she is a mix of a Dachshund/Terrier, and we think she must have had an owner before, because she is good in the house and walks on the leash quite well.
Rosy is still a bit scared and her perfect person would be calm and patient. She likes other dogs and cats and could easily live with them. She is also very very quiet and clean.
Little Rosy likes walks and nature, but she is not demanding, just little walks are fine! She is a country girl, and a calm residential area or nature/garden would make Rosy happy, because she gets scared at loud and sudden noises and movements.
Rosy is too gentle and delicate for the shelter and urgently needs a peaceful home to recover from the past trauma. She would be an excellent companion for senior citizens.
Rosy's guardians will support the adoption & transportation costs!
If you would like to offer Rosy the home she deserves, or your grandparents are looking for love and companionship, call/Whatsapp us at +34 661 104 739 or email at rosy.fieldmouse@gmail.com.
.