Peggy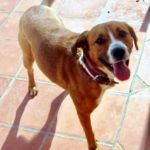 Peggy was found in 2016 wandering the streets of a Spanish village trying desperately to survive then one day she was struck by a car. PEPA association rushed to help taking her immediately to the vets. Unfortunately she was in a bad way and her front leg had to be amputated. Peggy has been lovingly cared for in a private kennels but after nearly 4 years she would love to find a place to call home a nice cosy basket and a family.
Peggy copes really well on 3 legs loves her toys especially a ball and actually plays football lol ⚽️⚽️
Peggy is still a little unsure around people she doesn't know but soon overcomes her fear, we can only assume she had a terrible life before.
She is fine with other male dogs but can be dominant with other females
Peggy is 25 kilos and approximately 5 years old She is fully vaccinated spayed blood tested clear and passported
The ideal home for Peggy would be a quiet rural home and with someone who has time and patience to love this dear girl who really does deserve a chance.
Please email p.e.p.a.animalcharity@gmail.com or phone 650 304 746 for more information.
http://pepaspain.com/
————————————