Gizmo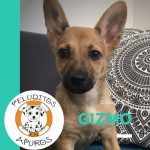 Gizmo, is about 3 months old. She was brought to Madrid from Anadalucia. She is the last puppy out of a family of 9. She is learning to poop and pee on her puppy training pads. She lives currently in a foster home with two big dogs and now believes she is a galgo or Mastin. She is funny, athletic, looks like a Fox, her nickname is Foxy Brown. She's full of energy but, also sleeps a lot. We feel she would do better with another dog and or a person who can devote a lot of time with her such as family with a stay at home mom or dad.
https://peluditosenapuros.org/
Gizmo, tiene unos 3 meses de edad. La trajeron a Madrid desde Andalucia. Ella es el último cachorro de una camada de 9. Ella está aprendiendo a hacer caca y orinar en sus almohadillas de entrenamiento para cachorros. Actualmente vive en un hogar adoptivo con dos perros grandes y ahora cree que es una galgo o Mastin. Ella es muy divertida, atlética, se parece a un pequeño bebé zorra, su apodo es Foxy Brown. Ella está llena de energía pero, también duerme mucho. Creemos que le iría mejor con otro perro y / o una persona que pueda dedicar mucho tiempo con ella, como una familia con una mamá o papá que se queda en casa. Probablemente se mantendrá alrededor de 10 kilos o menos.
http://www.peluditosenapuros.org