Bentley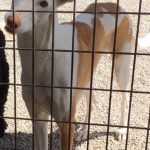 URGENT HOME NEEDED FOR BENTLEY
Bentley is a 3 year old Podenco in desperate need of a new home. His owner is currently in hospital and will be unable to take care of Bentley when he gets home. Bentley is chipped, vaccinated and neutered. He is good with dogs and loves to be around people. Bentley will need a very secure garden as he is a very big boy and can jump high walls.
Email: info@petsinspain.com
.