MOLLY-MAE ADOPTED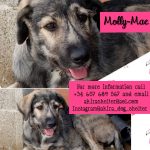 MOLLY-MAE AVAILABLE FOR ADOPTION
This mastin puppy is now available for adoption. She is approximately 3 months old. She was found in an empty swimming pool but no one has come forward to collect her. She is friendly and waiting for a nice comfortable home. She is going to have her first vaccinations this week. once her programme of vaccination including rabies is completed she will be able to travel outside of Spain. She will be chipped and treated for parasites. Please contact staff if you would like to discuss reserving her and making travel arrangements.
For further information call +34 657 689 567 or email akirashelter@aol.com.
MOLLY-MAE DISPONIBLE PARA ADOPCIÓN
Este cachorro mastín ya está disponible para adopción. Ella tiene aproximadamente 3 meses de edad. La encontraron en una piscina vacía, pero nadie se ha acercado para recogerla. Ella es amigable y espera un hogar agradable y cómodo. Ella va a tener sus primeras vacunas esta semana. Una vez que haya completado su programa de vacunación, incluida la rabia, podrá viajar fuera de España. Póngase en contacto con el personal si desea hablar sobre cómo reservarla y cómo organizar el viaje.
Para obtener más información, llame al +34 657 689 567 o envíe un correo electrónico a akirashelter@aol.com.