Marti -ADOPTED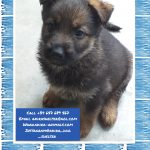 FEMALE PUPPY- MARTI
www.akira-animals.com akirashelter@aol.com
Tel +34 657 689 567
Instagram@akira_dog_shelter
Her mother Shay was rescued from a feral life in Benissa area by Akira previous Shelter Manager Sally Ann White, and volunteers Dlt Lorena and Jose Giner. Shay and her litter of ten pups(seven bitches, three dogs ) were bought to Akira.
The pups will be ready for adoption to homes meeting the following criteria in approx. two weeks.
1)Have a secure garden to facilitate house training.
2)Live locally to Akira so that Akiras veterinary practice can continue a normal puppy vaccination programme.
Any adoption to a home outside of Spain cannot take place until they are fifteen weeks old, due to legal vaccination requirements.
Shay the mother is medium sized but we do not know what size or breed dog (s )are the sire (s). The pups are expected to grow to at least a medium size.
Please share to help find a home
Espanol
Cachorro macho MARTI Su madre Mother Shay fue rescatada de una vida salvaje en el área de Benissa por el anterior Gerente del Refugio de Akira, Sally Ann White, y los voluntarios Dlt Lorena y Jose Giner. Shay y su camada de diez cachorros (siete perras, tres perros) fueron comprados a Akira.
Los cachorros estarán listos para ser adoptados en hogares que cumplan con los siguientes criterios en aprox. dos semanas.
1) Tener un jardín seguro para facilitar el entrenamiento de la casa.
2) Vivir localmente en Akira para que la práctica veterinaria de Akiras pueda continuar con un programa normal de vacunación de cachorros.
Cualquier adopción en un hogar fuera de España no puede tener lugar hasta que tengan quince semanas de edad, debido a los requisitos legales de vacunación.
Shay la madre es de tamaño mediano, pero no sabemos qué tamaño o raza de perro (s) son el padre (s). Se espera que los cachorros crezcan al menos a un tamaño mediano.