Lukia— ADOPTED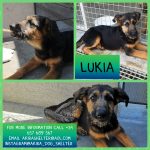 LUKIA
AMAZING PUPPY AVAILABLE FOR ADOPTION
This gorgeous boy is almost 15 weeks old. He is due his last vaccinations next week and then can travel outside Spain 21 days after this due to the obligatory wait following the rabies vaccination. The staff can assist with making the necessary travel arrangements if required.
He is super friendly and his mother is a catalan shepherd dog and it is suspected that the father was a German shepherd dog. He will be medium when fully grown.
VIDEO here

If you would like more information please call us on +34 657 689 567 or email akirashelter@aol.com.
If you would like to see more pictures you can follow us on Instagram@akira_dog_shelter or www.facebook.com/akiraanimalsanctuary