Lolita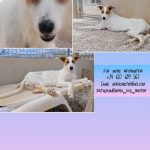 LOLITA AVAILABLE FOR ADOPTION
Lolita was wandering around in Moraira in the main car park for several weeks whilst volunteers worked tirelessly to try and catch her she was very scared and thin after much efforts she was caught and bought to the shelter.
She is approximately 18 mths old. She is vaccinated and chipped and she is able to travel outside Spain. The staff can help assist with any arrangements if required. She has tested free from Mediterranean diseases.
She is still very nervous so would need a little patience however the shelter managers believes she is ready for adoption and that she will blossom in a home of her own with someone she can trust. Prior to adoption though we ask that you are able to spend some time to get to know her and gain her trust as she is still so nervous at the present time.
If you would like further information you can call +34 657 689 567 or email akirashelter@aol.com. If you would like to visit the shelter we would also love to see you. We are open between 10h00-15h00, 7 days a week.
If you would like to see more pictures please follow us on Facebook www.facebook.com/akiraanimalsanctuary.com or Instagram @akira_dog_shelter