Lobo ADOPTED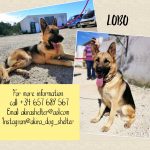 LOBO ! G.S.D. AT AKIRA !
For more information contact us
Tel. +34 657 689 567
Email akirashelter@aol.com
This is Lobo, he is only 20 months old, his original owners are unable to keep him due to their advancing years.
He is a strong young boy who is house trained. He would benefit from some further training with an owner who has experience of handling a large dog or German Shepherd Dogs.
This gorgeous boy is castrated, vaccinated, microchipped and has tested free from Mediterranean diseases. Lobo will be able to travel outside of spain and the staff can help with the necessary arrangements.
LOBO! G.S.D. ¡A AKIRA!
Para mas información contactenos
Tel. +34 657 689 567
Correo electrónico akirashelter@aol.com
Este es Lobo, solo tiene 20 meses, sus dueños originales no pueden mantenerlo debido a sus años de avance.
Él es un joven fuerte que es entrenado en casa. Se beneficiaría de algún entrenamiento adicional con un propietario que tenga experiencia en el manejo de un perro grande, o perros de pastor alemán.
Este hermoso niño está castrado, vacunado, con microchip y probado sin enfermedades del Mediterráneo. #GSD #alsation #pasterallemand #pastoraleman #germanshepherd #lookingtoadopt #benissa #teulada #moraria #denia #costablanca #javea #please #dogrehoming #chiendeinstagram #chienderefuge #chien #hundsaufinstagram #hundsbilder #familiehund #spanishdogshelter