Kita – RESERVED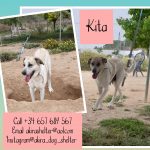 KITA- available for adoption
Watch video here

and also
Here https://youtu.be/j6SJIGdOMmY
These videos really give you a great glimpse into her character.
Kita was bought to akira with her 3 pups who have successfully been adopted and living their dream lives. We would love the same too happen for Kita.
She is approximately 4 years old and as you can see full of life. As she is a Mastin she is extra large in size so having experience with large dogs would be a bonus. She has been social with all dogs, big or small, male or female. She hasn't been tested with cats, but didn't reacted when walking past the chickens and geese, so that's a good sign. She is just lovely with a kind and gentle heart
She was also good with the kids however since she is large so maybe better suited to being around older kids but this can be discussed with the managers on an individual basis.
She walks well on the lead a perfect lady.
Please contact akira +34 657 689 567 Email akirashelter@aol.com
Instagram@akira_dog_shelter
https://www.facebook.com/akiraanimalsanctuary/
Thanks for reading