Lacey ADOPTED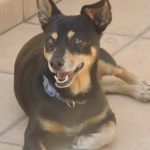 Lacie is a small little girl who is great with dogs and kids and loves people in general. She just wants to sit and be stroked. She is however not good with cats.
She is excellent on the lead and travels well in the car. She is house trained the perfect house mate. She needs someone who is able to be at home with her or take her places with them. She is excellent in cafes and restaurants.
She will be able to travel and the staff can assist with making any necessary arrangements. If you would like more information call +34 657 689 567 or email akirashelter@aol.com.
Here is a little video https://youtu.be/O_mRCQtm73Y
If you would like more pictures then please visit our Facebook page www.facebook.com/akiraanimalsanctuary or Instagram@akira_dog_shelter.