ADOPTED: Harold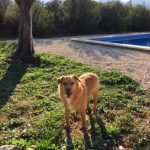 HAROLD
Last summer, Harold had been left in a Finca in Partida Llenes, his owner had died and it was impossible for the remaining family to care for him. He was with some other dogs but all the dogs had received very little socialization and were not used to humans.
Gradually the Akira staff and volunteers have been able to build some confidence in these dogs. It has been a slow process. Now Harold is ready to be homed. The reward of seeing a dog with this kind of history blossom to his full potential would be enormous.
Harold has already had a taste of home life, going on a Doggy Day Release with one of Akira:s staff members and he rather liked it !
Harold is approx 1 year old, he is castrated, vaccinated, microchipped, tested free from Mediterranean diseases, and has been treated for parasites. He is currently at the shelter located in Benissa.
Please phone Akira on +34 657 689 567 or email akirashelter@aol.com for more information.
.