Grace RESERVED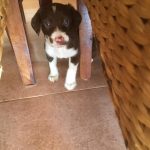 READY TO SAY AWWWW..
GRACE AVAILABLE FOR ADOPTION
Grace was found out in the Benissa Campo and she had been rejected by her mum. She was placed with a fantastic Foster mum and has since thrived as you can see in the video below. She has just had her first vaccinations and is 6 weeks old so currently can be adopted locally.
She has been around children and exposed to sounds of the outside world so she is well socialised for her age a perfect addition to the family.
If you would like more information about Grace then please contact us on +34 657 689 567 or email akirashelter@aol.com.
LISTO PARA DECIR AWWWW ..
GRACIA DISPONIBLE PARA ADOPCIÓN
Grace fue descubierta en el campo de Benissa y su madre la había rechazado. Ella fue colocada con una fantástica madre adoptiva y desde entonces ha prosperado como se puede ver en el video a continuación. Acaba de recibir sus primeras vacunas y tiene 6 semanas de edad, por lo que actualmente puede ser adoptada localmente.
Ella ha estado rodeada de niños y expuesta a los sonidos del mundo exterior, por lo que está bien socializada para su edad, un complemento perfecto para la familia.
Si desea obtener más información sobre Grace, contáctenos al +34 657 689 567 o envíe un correo electrónico a akirashelter@aol.com.
Www.facebook.com/akiraanimalsanctuary
Here is a little video