Duke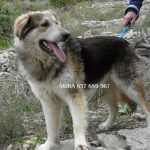 Duke was found in the Pinos area of Benissa , despite advertising him his owners have not come forward so we are forced to believe that they do not want him anymore.
This gives Duke a chance to find someone who really does love him and will welcome him into their forever home.
This beautiful boy has a calm, laid back attitude. He is a strong, young dog but will listen to commands on a walk.
If you would like to foster, home trial or adopt Duke, please phone Akira Shelter on +34 657 689 567 or email akirashelter@aol.com