Coco ADOPTED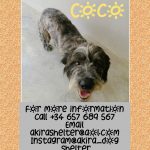 COCO AVAILABLE FOR ADOPTION
Coco was surrendered recently. He has lived just in the garden with no walks outside. Despite this he is a gorgeous boy who is super friendly. He is 15 months old and waiting for a new home. His fur will grow longer but it had to be cut as was not in great condition.
He has been vaccinated, chipped and will be able to travel if required outside and across Spain  so please contact us for more details and the staff can assist with making arrangements where required.
He is a very handsome sweetheart. Here is a video of him in action and get a better appreciation for his good looks then please watch here :
If you would like more information then please contact us on +34 657 689 567 or email akirashelter@aol.com and we are at your disposal with any questions and enquiries you may have.