Clyde, Akira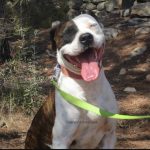 Clyde, what can we say he just loves to amuse you ! He loves being with people and wants nothing more than to please you.
Clyde is vaccinated and chipped. He is negative for Mediterranean diseases. He is about 1 year old. He is a lovely little boy, full of fun, loves attention, good with children and female dogs.
To meet Clyde and laugh with him, phone Akira on +34 657 689 567 or email akirashelter@aol.com.