Clara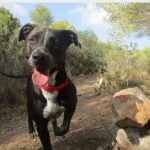 CLARA – USED TO DOGS AND CATS
Clara is a Pointer cross, and fully grown at approximately 1 year old.
She comes from a home environment, so is house trained and used to living in a family environment with dogs and cats. She is happier with male dogs than female dogs.
Clara is friendly and forward, and walks nicely on the lead. Due to her breeding, it should be easy to further her training.
She is vaccinated, microchipped and treated for parasites. She is located at the shelter in Benissa.
Please phone Akira Shelter on +34 657 689 567 or email akirashelter@aol.com.