Chispa ADOPTED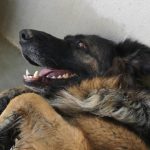 CHISPA AVAILABLE FOR ADOPTION
Chispa is an almost 8 year old German shepherd dog. She is stunning and super gentle with people. She was surrendered by her owners who were moving back to their home country and did not want to take her.
We feel it is important to mention that Chispa does have Hip dysplasia but the staff can discuss her needs in more detail.
She is chipped, vaccinated and has tested free from Mediterranean diseases. She can travel outside and across Spain and the staff can advise about making travel arrangements.
If you have any further questions please call +34 657 689 567 or email akirashelter@aol.com. Perhaps you would like to take her out for the day or of course adopt her to take home.
Please see her video here she is a cuddle monster