Bonnie, Akira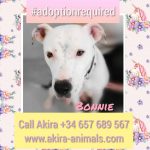 BONNIE
Bonnie arrived at the shelter a few months ago with her friend Clyde. They both were covered in wounds, and frightened. Shelter staff took care of them and nursed their wounds. Bonnie produced six healthy puppies, delivered by Sally Ann White, Shelter Manager. All the pups have been adopted, and her friend Clyde is reserved to go to his Forever Home.
Bonnie is ready for her Forever Home, she is a happy girl, just eager to please you. She would be happy with a new boyfriend, but not so keen on sharing love with another female.
Bonnie is approximately two years old, vaccinated, microchipped and treated for parasites.
Come and meet Bonnie, and have a laugh with her. She is currently located at the shelter in Benissa. Phone Akira Shelter on +34 657 689 567 or email akirashelter@aol.com for more information.