Bentley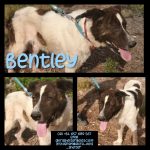 Bentley was bought to Akira in a poor condition but he has made significant progress. He is a handsome boy and looking better everyday as his fur regrow.
He has been vaccinated, chipped and has tested free from Mediterranean diseases. He will be able to travel.
For further information please contact +34 657 689 567 or email akirashelter@aol.com.