Balleria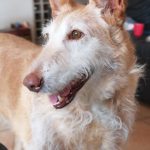 BALLERIA AVAILABLE FOR ADOPTION
This lovely lady is 8 years old and is waiting for a home of her own after a tumultous start in life. She is the sweetest friendliest dog. She loves people to play and other dogs and get along with all big, small, male or female.
She is chipped and vaccinated and can travel is required outside and accross Spain. The staff can help assist in making travel arrangements.
Please call +34 657 689 567 or email akirashelter@aol.com for more information.
Please see here for her video