Alice ADOPTED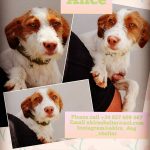 She is a sweet young dog of about one year old,  who was found in someone's back garden. No one came to collect her and she was not chipped or wearing a collar. She is only small and fully grown at about 12kg and below the knee in height a perfect size if you are after a mini companion.
She is  ready for a home and loves to be around people. She will be chipped and vaccinated so able to travel outside of Spain if required. The staff can help make arrangements if required.
If you would like more photos then please follow us on www.facebook.com/akiraanimalsanctuary or Instagram@akira_dog_shelter.