Alba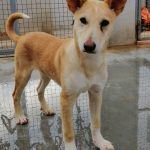 Alba- Available for Adoption- Mixed Breed Female
Alba was born in a building quarry located in Teulada, Spain. She was rescued along with her 2 sisters and 3 brothers by staff and volunteers from the Akira Shelter. This family is now ready for adoption and Alba is approximately 12 months old. She is still quite nervous so would need to continue working on her socialization.  Due to this she is better homed where there are no children.
We also suggest prior to her leaving that the shelter that you are able to come and meet her so you can gain some familiarity due to her nervous disposition.
She has been vaccinated and has tested free against Mediterranean diseases. She has had her rabies vaccine so is able to travel outside of Spain if required and the managers can help assist in making travel arrangements.
She is a beautiful blonde and is currently located at the animal shelter in Benissa/ Spain. You are welcome to come to shelter everyday between 10h00 – 15h00.
If you are interest in this puppy then do not hesitate to contact us for more information. You can  phone the shelter on +34 657 689 567 or email akirashelter@aol.com.  The staff all speak english.
For more pictures of Alba you can follow us on instagram @akira_dog_shelter or facebook https://www.facebook.com/akiraanimalsanctuary/.
Thanks for reading.