RESERVED: 8 week puppy Lucia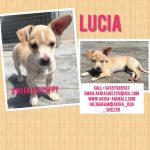 LUCIA – Reserved
www.akira-animals.com akirashelter@aol.com Tel. +34 657 689 567
Instagram @akira_dog_shelter
Eight week old pup Lucia is ready for her Forever Home, which must meet the following criteria for immediate adoption.
1)Have a secure garden to facilitate house training.
2)Live locally to Akira so that Akiras veterinary practice can continue a normal puppy vaccination programme.
Any adoption to a home outside of Spain cannot take place until they are fifteen weeks old, due to legal vaccination requirements but enquiries are still welcome to place a reservation incase she is still available at this time and arrange appropriate transport.